CodeRunner 2
An advanced, highly flexible, and easy-to-use programming editor for your Mac. CodeRunner supports a large number of languages, and delivers big IDE features while remaining lightweight and clutter-free.
or
download
free trial
Version 2.3 – OS X 10.7+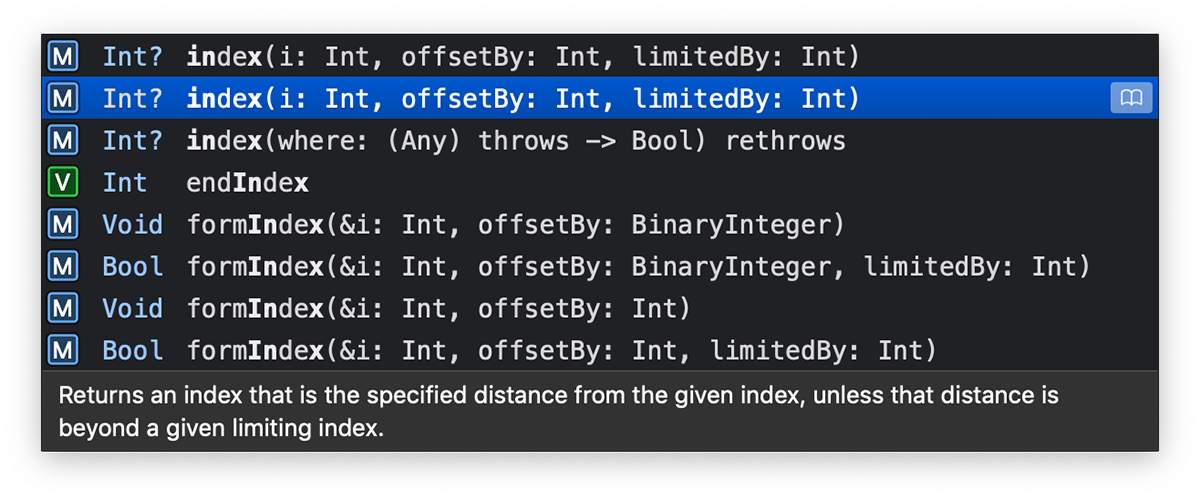 Advanced Code Completion
Any programmer knows the importance of good code completion. That's why CodeRunner supports full-blown IDE-level code completion for most languages, including fuzzy-search, tab-selectable placeholders, and documentation snippets.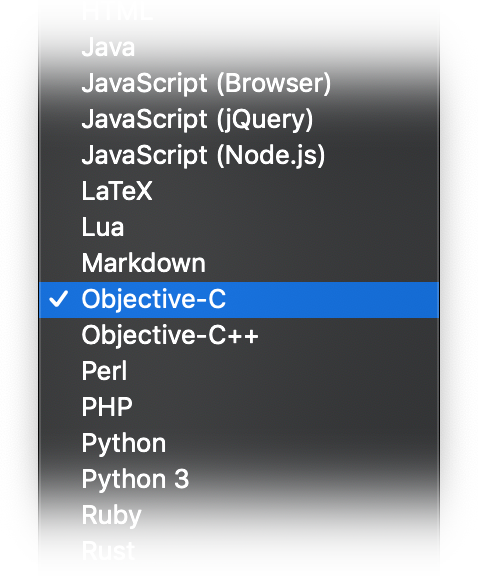 Run Code in Any Language
CodeRunner was built on the principle that you should be able to run your code instantly in any language. CodeRunner can run code in 23 languages out-of-the-box, and can be easily extended to support any other language. Adding a language is as easy as entering its terminal command.
CodeRunner can also run multi-file projects without any manual setup required.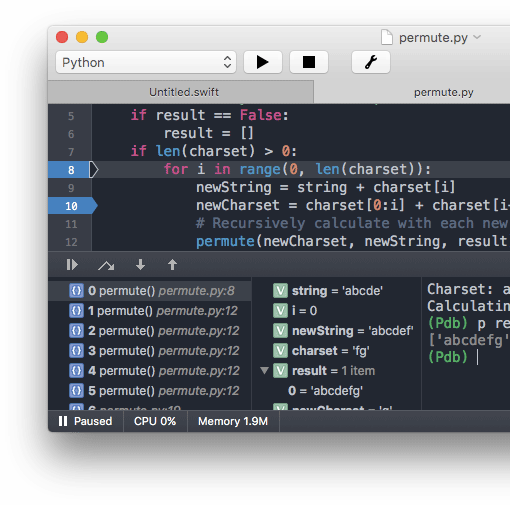 Debugging with Breakpoints
It's easy to get frustrated when your code is not working right. New in CodeRunner 2.2, you can set breakpoints and step through code line by line.
Just click the text margin to set a breakpoint and start debugging. Explore the call stack, view and edit local variables, and leverage the full power of the debugger by issuing debugger commands.
Debugging your code has never been this convenient.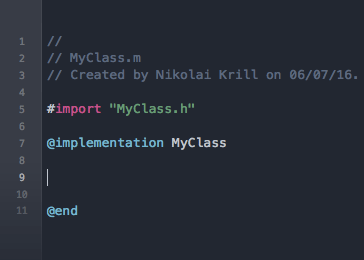 Code Templates
Quickly get down to coding without the need to write main functions, class definitions or other boilerplate code.
CodeRunner includes a number of fully-customizable templates for each language, to easily create classes, scripts, main methods, and the like. This also makes it easy to create multi-file projects.
More Features
✓

TextMate theme support

✓

Automatic indentation support

✓

Interactive console

✓

File navigator

✓

Intelligent bracket matching

✓

Custom compile flags

✓

Symbol navigator

✓

Run with arguments & input sets

✓

Word completions

✓

Multiple selections

✓

Live run statistics

✓

Software updates
Language Overview
Below is a summary of all the languages CodeRunner supports out-of-the-box.
| Language | Run Instantly | Code Completion | Debugger Support | Syntax Highlighting |
| --- | --- | --- | --- | --- |
| | | | | |
| --- | --- | --- | --- | --- |
| AppleScript | ✓ | Basic | ✖ | ✓ |
| C | ✓ | IDE-level | gdb or lldb | ✓ |
| C# | ✓ | Basic | ✖ | ✓ |
| C++ | ✓ | IDE-level | gdb or lldb | ✓ |
| Go | ✓ | Coming Soon | gdb or lldb | ✓ |
| HTML/CSS | ✓ | IDE-level | ✖ | ✓ |
| Java | ✓ | IDE-level | jdb | ✓ |
| JavaScript | ✓ | IDE-level | ✖ | ✓ |
| jQuery | ✓ | IDE-level | ✖ | ✓ |
| LaTeX | ✓ | Coming Soon | ✖ | ✓ |
| Lua | ✓ | Library Functions | ✖ | ✓ |
| Markdown | ✓ | ✖ | ✖ | ✓ |
| Node.js | ✓ | IDE-level | Coming Soon | ✓ |
| Objective-C | ✓ | IDE-level | lldb | ✓ |
| Objective-C++ | ✓ | IDE-level | lldb | ✓ |
| Perl | ✓ | Library Functions | perldebug | ✓ |
| PHP | ✓ | IDE-level | phpdbg | ✓ |
| Python | ✓ | IDE-level | pdb | ✓ |
| Python 3 | ✓ | IDE-level | pdb | ✓ |
| Ruby | ✓ | Basic | ✖ | ✓ |
| Rust | ✓ | Coming Soon | gdb or lldb | ✓ |
| Shell Script | ✓ | Basic | bashdb | ✓ |
| Swift | ✓ | IDE-level | lldb | ✓ |
Syntax Highlighting Only
ActionScript
Ada
AngularJS*
ASP
Clojure
D
Erlang
Fortran - Modern
Fortran - Punchcard
Groovy
Haskell
Jade
Java Server Page
JavaDoc
JSON
Lasso
Less
Lisp
MultiMarkdown
Pascal
Postscript
Property List
RequireJS*
reStructuredText
Scala
SQL
Strings File
Tcl
Textile
XML
XSL
YAML
* Also supports IDE-level code completion.
You can also add your own syntax definitions, using TextMate 1 language grammars. All languages support word-completions.
Bought CodeRunner 2 on the App Store?
If you have bought CodeRunner 2 on the App Store, you can get a free license for the non-App Store version. To get a free license, simply download CodeRunner 2 and follow the instructions in the licensing window. Don't replace your App Store copy of CodeRunner until after you've generated your free license.